Top 10 Benefits of Fixed Hurricane Shutters
Hurricane shutters have many benefits.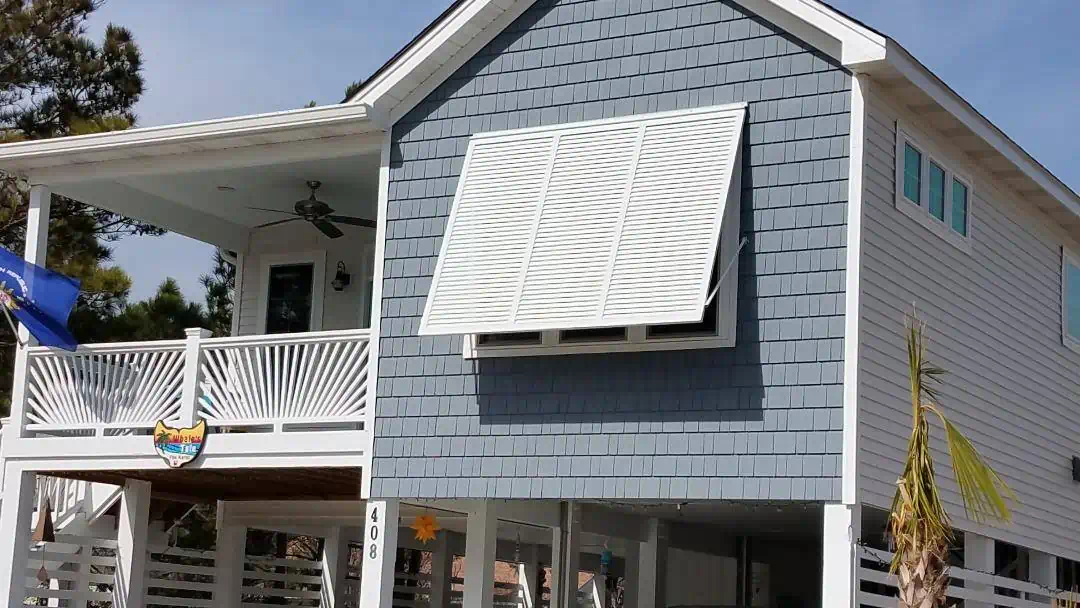 You know how hurricanes can affect your property and safety, whether you live there year-round or temporarily. There are many options for protection, so it is essential to research what you have available. You have many options to protect your home from the devastating effects of hurricane-force winds or inclement weather. Look at the top 10 benefits these shutters offer for your home and family.
1. You'll ALWAYS be prepared.
You'll be ready for severe weather if you have hurricane shutters such as accordions and roll-downs. You can take time getting temporary panels or fighting the crowds at the hardware store to pick up supplies to board your home. Your shutters will be ready to roll as soon as inclement weather approaches. With a reliable, quick, and easy way to protect your home during storm season, you'll be able to relax.
2. A ONE-TIME Expense
Fixed hurricane shutters also come with an upfront, one-time expense. Many North Carolina prefer to use other storm protection methods, such as plywood boarding. These are less durable and more susceptible to breaking down, and fixed hurricane shutters are also more durable and less likely to be misplaced.
3. MINIMAL MAINTENANCE
Hurricane shutters that are fixed require very little maintenance every year. The severity of storms in your area will determine how much care is needed. Standard maintenance might include fixing locks and lubricating tracks to keep them open and closed smoothly. This minimal maintenance is much easier than other hurricane protection methods and will help you get the best out of your shutters over the long term.
4. MORE STORAGE for the rest of your ITEMS
Fixed hurricane shutters are more durable than temporary plywood or panels, allowing more storage space in your home. When you're not using hurricane panels or plywood, they will naturally need storage space. Fixed shutters do not require additional storage space beyond their intended installation area, and they won't clutter up your garage or require you to search for other places in your house to store them.
5. THEY ARE FLEXIBLE AND CUSTOMIZABLE
For homes with multiple stories, balconies, or patios, fixed hurricane shutters can be an excellent option for protection. Roll-downs or accordions can be tailored to fit your windows and doors precisely, depending on your requirements. You can choose from a range of different colors so that you can match your home's style.
6. THEY ARE DISCREET
Fixed hurricane shutters are a versatile and customizable way to protect your property. They will stay in the beauty of your home. They are discreetly hidden from windows and doors, so they don't appear bulky or out of place. They are still more discreet than plywood and panels, even in use.
7. YOU WON'T ACCIDENTALLY DAMAGE YOUR HOME
There is plenty of room for error if you are in a situation where you need to install hurricane panels or put up plywood boards. You run the risk that you will accidentally damage your home by nailing plywood boards or commissions to exterior windows and doors. Fixed shutters eliminate the risk of damaging your home accidentally. Because accordion and roller-downs can be customized to your specific windows and doors, there's less chance of them getting damaged.
8. INCREASED PROPERTY RESULT VALUE
Fixed hurricane shutters can also be a financial asset to your Myrtle Grove, NC property and could increase your property's resale price. These shutters offer many benefits and are often considered attractive assets by homebuyers, especially in Florida. It may be a good idea to install roll-down or accordion shutters if you are trying to sell your house.
9. YOU MAY GET AN INSURANCE BREAK
Your homeowner's insurance policy may allow you to qualify for financial relief if your home has hurricane shutters. When they take the necessary precautions to prevent storm damage, many Southwest Floridians get a discount on their insurance. You can get a discount on your homeowner's insurance if you have installed shutters or plan to install them.
10. Most important: They provide safety
The most important feature is that hurricane shutters can provide protection and safety for your home. These shutters are made with reinforced aluminum slats with double walls and can withstand hurricane-force winds. These shutters are designed to protect your home from any debris that could have devastating consequences.
The official start date for hurricane season is June 1st, which lasts until November 30th. Carolina Window Covering inc wants nothing more than to protect your family and home during the storm season. We hope you feel more confident in your choices for this year's season by educating yourself on the fixed shutter.
Need Shutters, Blinds or Shades?
With years of installation experience, we will help you choose the right blinds for your home, and ensure that they are installed correctly. Contact Carolina Window Coverings for a free consultation.