Tips For Keeping Your Hurricane Shutters in Excellent Condition
Prolong the life of your hurricane shutters.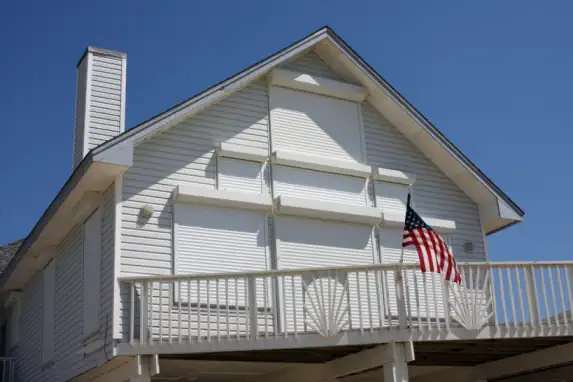 Good maintenance can prolong the life of hurricane shutters. Watch our video to learn more about how your accordion shutters should work. These are some ways to ensure your hurricane shutters work well and protect your home. Hurricane shutters protect your house from the damaging winds and rains of a severe Wilmington North Carolina areas storm. They can't function properly if they aren't maintained regularly. 
All types of hurricane shutters should be inspected annually
You should inspect and service your hurricane shutters at least once a year, preferably before hurricane season begins. This gives you the opportunity to ensure that everything works properly, and this allows you to plan and ensure that you don't get caught with hurricane shutters broken right at the worst time. 
A professional can save you time and hassle.
Professional inspections will identify any motors or cranks not working and look for dents. You can do it yourself, but Carolina Window Coverings will provide a thorough inspection if you lack the time or knowledge.
Repair Broken Motors and Broken Slats
Don't delay fixing problems that you discover during inspections. For example, if the crank or motor that drives your roll-down shutters is damaged, get it replaced immediately. You may also wish to use this opportunity to upgrade your motors. To make storm preparations easier, you can add a remote sensor/switch. 
Repair May Be Your Best Option
DIY hurricane shutters are not something you want to do. You should have your hurricane shutters repaired before the next storm hits. It is possible to repair hurricane shutters in many cases depending on what type of hurricane shutters they have and how much damage they have sustained. Asking for a repair instead of replacing it can save you money.
Sometimes replacement is necessary.
Don't ignore a shutter that is beyond repair. You may wait until it isn't too bad if you have a tight budget. It's essential to replace damaged shutters if you are expecting hurricane season, and it's better to do it now than later.
Do not wait until a storm is approaching to make your move.
Before a storm hits, it is essential to ensure that your hurricane shutters are in top shape. Regular maintenance and inspections will ensure that your hurricane shutters are in top condition. This will provide you with peace of mind and a great deal of security.
Learn the Types of Hurricane Shutters
You can choose to replace hurricane shutters if they are damaged beyond repair. Which shutters should you choose? Carolina Window Coverings can help. Think about the many benefits of hurricane shutters and why you'd want to install them all.
Roll Down Shutters
Roll-down hurricane shutters can be one of the simplest to use. You can choose from motorized or hand-crank versions. You can roll them down when there is a storm to protect your windows from the flying debris. They are an affordable option, especially for homeowners, and are easy to use, especially if you have a hand crank model.
Accordion Shutters
The accordion shutters are designed to fold from the sides and meet in the middle, protecting your windows. You could use plywood to make hurricane shutters, but that's not a good choice if you want to protect your home from damage. This durable and cost-effective option is great for homeowners who desire security and convenience.
Bahama Shutters
Bahama shutters are easy to fold down and lock into place during a storm, and they can be heavier than other hurricane shutters and are more expensive. They can be left open when not in use and help reduce the sun's heat from your windows.
DIY Hurricane Shutter Maintenance
Although it is a good idea for your hurricane shutters to be professionally checked and repaired, there are some maintenance steps that you can do on your own. These are:
Visually inspect tracks and shutters permanently installed at least once per year.
Remove all leaves and debris from the track and behind the shutters.
Use warm water and mild detergent to clean the shutters.
To ensure that everything works properly, make sure you open and close your hurricane shutters at least once every six months. This could be a sign that you have a problem before the storm season arrives.
As a part of hurricane shutter maintenance, you can spray tracks and hinges lightly with clear silicone oil.
The right help makes all the difference.
Call us if you have any questions about your hurricane shutters. We will be happy to help you with your repairs or to suggest other hurricane shutters or impact windows that can better protect your home. Fill out the contact form to receive a complimentary estimate for hurricane shutters or new impact windows. We will then call you to set up an in-home consultation. We are here to keep you safe during hurricane season and beyond.
Need Shutters, Blinds or Shades?
With years of installation experience, we will help you choose the right blinds for your home, and ensure that they are installed correctly. Contact Carolina Window Coverings for a free consultation.